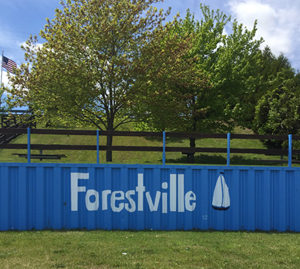 Welcome to the Village of Forestville Michigan!
The Village of Forestville was named for the heavily timbered area. Forestville was first settled by Alva Kelley who bought land here in 1853. Captain E.B. Ward built the first sawmill in 1854. It was incorporated as a village in 1895.
Forestville is located along the shores of Lake Huron in the northeast corner of Sanilac County. It is a quiet village and a perfect setting for a relaxing get away or a summer cottage.
We invite you to learn more about our village within these pages and encourage you to contact us if you have any questions.
Effective Immediately
The Village of Forestville announces Coronavirus (COVID-19) mitigation measures:
At the recommendation of the CDC and Governor Whitmer the Village of Forestville will adhere to the following protocol until further notice:
The Village hall will be closed to walk in traffic at this time. All residents can conduct business with the Village via U.S mail, telephone, email, or by utilizing the drop box located at our front door.
The Village hall staff will be available to take phone calls and emails from 9:00 a.m. until 4:00 p.m. Monday, Tuesday, Thursday, and Friday.
This schedule will be reviewed as circumstances change. Please monitor our website at www.forestvillemichigan.com for updates.
As per the governor's orders all public recreational areas in the Village of Forestville are closed.
As of now those who utilize Forestville's bulk water are cautioned to use safety precautions when using it due to Covid-19.
The Village of Forestville thanks everyone for their cooperation and understanding during this time
Water Tower Maintenance
As some of you may noticed we are having the water tower resurfaced. Due to the need to lower the water level in the tower, so that the crew can successfully complete their work, we ask that those who utilize our bulk water service do so in the evening when the water levels can be raised. We appreciate your cooperation and assure you that this will be a temporary situation.
Please Remember that Forestville has switched the utility bills to every other month billing. You should receive a bill in the beginning of May. If you do not receive a bill please contact us at 989-864-3447. For those who signed up to have their payment taken from their checking account automatically that will occur between the 15th and the 20th  of March.
Watch for Water Leaks!
A running toilet can use up to two gallons of water per minute, so it's important to check all your toilets often. Sometimes you can't hear a running/leaking toilet. A good way to check is to put food coloring in the back tank of the toilet before you go to bed; if there is colored water in the bowl the next morning you know you have a leak. Monitor all of your water taps to be sure they aren't leaking or dripping. Even a pinhole leak can leak up to 170 gallons in 24 hours. It pays to be vigilant when it comes to water leaks! Above all else if you will be leaving your home for any length of time, especially in the winter, please schedule an appointment to have your water turned off at the curb stop.
Please note that utility work that is done on the Village of Forestville's water and sewer system is performed by our DPW who will arrive in a red truck with the Village of Forestville logo on the doors or a white truck with the City of Harbor Beach logo on it. Typically an appointment is made in advance for any work that requires our DPW to enter a property. If you have any questions or concerns please contact us at 989-864-3447 or forestville@airadv.net
Only Forestville DPW is authorized to access the curb stop. Please call 989-864-3447 to schedule an appointment to have your water turned on for the season.
As per Village Ordinance (in part): Grass or weeds that are 8″ or taller shall be cut by the Village of Forestville at a cost of $125.00 per hour or any part of an hour and shall be billed to the property owner. If you have any questions please contact us at 989-864-3447 or forestville@airadv.net.